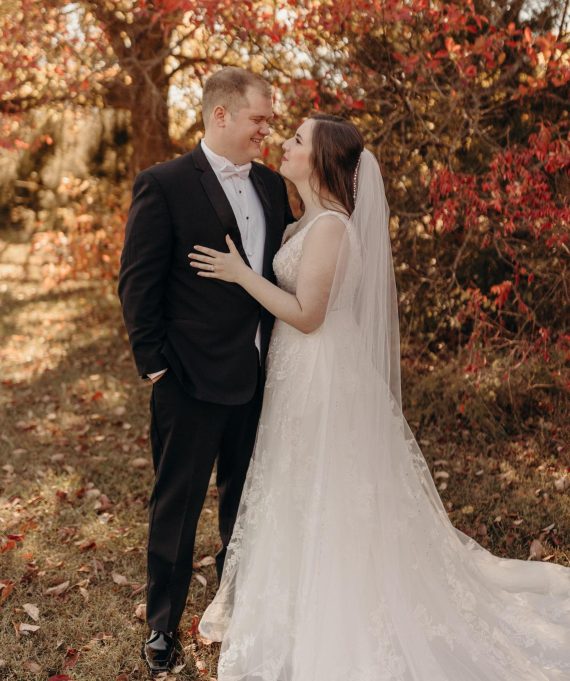 Michael and Hannah's love story is beautiful. They were engaged on July 6, 2020 at the Grand Teton National Park and married November 6th, 2021! Our officiants loved celebrating their love story and bringing them together for the biggest journey of their lives!
"Outside my (Michael's) old craftsman style house in college."
the first time you remember seeing each other?
"One night we were having a get together when my sister happened to bring Hannah over. When I first saw her perfect smile and heard her sweet voice I immediately knew that I had to see her again."
"I honestly don't know, all I knew was Hannah liked me and that I really liked her, it was a mutual interest. But one thing I do know is me and Hannah went to a Missouri state tailgate with a big group of friends a few days after meeting. And when everyone left I waited for Hannah. While I was waiting I found a pair of sunglasses sitting on the ground, so I decided to give them to Hannah to make up a reason for waiting on her, when the real reason I waited on her was to get some one on one time to get to know her even better, she still has those sunglasses to this day. A few days later I would ask her on our first date to Nona's."
"I knew I had fell in love when I came to the realization that I truly missed her every second we were apart. And when I sat next to her and wished that time stood still."
of your favorite memories you shared together?
"My best and most favorite moments with Hannah are always of us just being together. Whether that be just making each other laugh, sneaking up and scarring each other by making funny noises, or going on long drives together talking for hours. We've had so many good times together it would be impossible to choose just one. One time me and Hannah found a Bat in my bedroom at college, so I caught it in a towel while she recorded me. We released the bat outside during the day time and it flew directly into the bumper of my friend hunters car, we both felt bad but laughed our butts off, I guess I squeezed it a little too tight."
CONGRATULATIONS TO THE NEW MR. AND MRS. CHILDRESS
Thank You For Letting Us Celebrate Your Love!
So, you just got engaged and on top of all the wedding planning, you're trying to figure out where to celebrate your first days as
Read More »